When securing a bond for yourself or a loved one, it is important to be aware of the various types of bail bond collateral that you might be able to use. If the accused fails to appear for scheduled hearings and the trial after being released from jail on a bond, this collateral may be retained by the bondsman to be sold as repayment for the full amount of bail as a part of the bond agreement.
Detainees bail is set by the judge
If you or someone you know is arrested in Las Vegas, that individual will be taken to one of the three detention centers, booked, and given a bail hearing. The judge will determine the amount of bail. There are three choices at this point. The individual or a representative may:
Pay the full amount of bail set by the judge
Hire a bail bondsman for (15%) of the set amount of bail
Hire an attorney to try to have the bail amount reduced
How does a Bail Bond in Las Vegas work?
A detainee may have an opportunity to contact a bail bondsman or a friend or loved one for assistance. The bail bondsman will require (15%) of the bail amount as a fee. The bondsman will then make arrangements for the full amount of bail to the detention center in order to begin the release process for the individual who was arrested.
Types of Collateral that can be used for the bail bond
You can hire a bail bondsman for (15%) of the bail amount. While this amount is typically paid in cash, an individual may not have access to that much cash, either in a bank account or by using a high limit credit card, if the amount of bail is set very high. In that case, a bondsman will take certain items in lieu of cash to hold until the accused takes care of all legal matters or as payment for the (15%) fee. Large items of property, such as a home, land, or car may be used. Smaller property items that can be pawned or are of great value, such as jewelry, gold or silver coins, or firearms may also be considered. Basically any item that has value can be used in place of cash to secure the release of the arrested party from a detention center.
Accused shows up for court dates
As long as the accused shows up for all hearings and trial dates, the only fee will be the (15%) paid to the bondsman.
Accused skips their court dates
If the accused does not show for hearings or trial, the bondsman can use various means to find and secure the defendant, including the hiring of a fugitive retrieval service. The bondsman has 6 months, after which time the bondsman will lose the bail that was put up at the jail for the accused as a part of the bond agreement. In addition to the (15%) fee, the defendant will now owe the full amount of the bail to the bondsman. In this case, the bondsman can collect any collateral that was used to secure the bond.
Best Las Vegas Bail Bond Service
When putting up property or cash to secure a bond, you want to deal with someone you can trust. That is where Marc Gabriel at eBAIL Cheap Bail Bonds comes in. We are fully insured and accredited with the Better Business Bureau. We can help you with payment arrangements with little or no money down.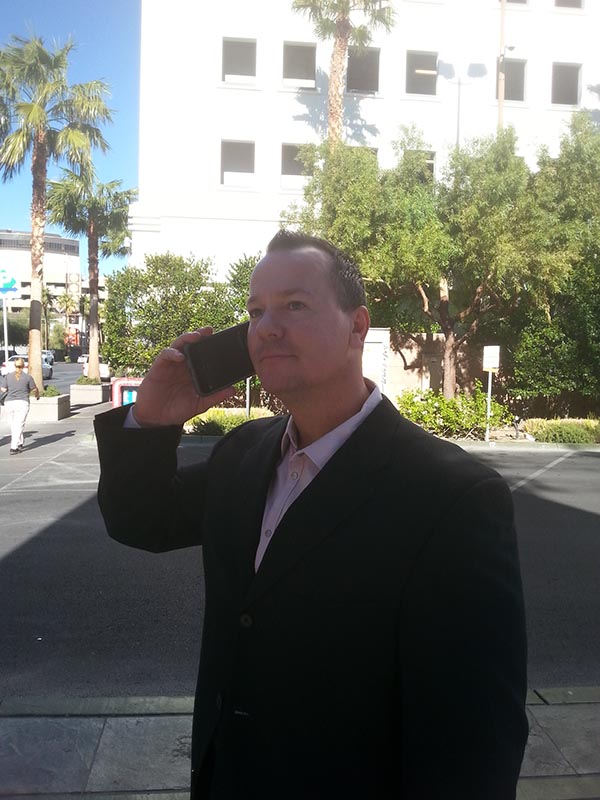 Las Vegas Jails Inmate Searches
If you need assistance finding an inmate in any of the local jails you can use our free inmate search tools. In addition, each detention center has its own release policy. However, if you have any questions you can call our friendly operators. We are available 24 hours a day 7 days a week and can help you locate a detainee and help secure their release. You can also learn more about the Nevada Bail Bond process in our Frequently Asked Questions (FAQs) section. You can also learn about "How Much a Bail Bond Costs" and how and why the price is regulated by the state of Nevada.
Hablas, Español? eBAIL Cheap Bail Bonds ofrece opciones de fianza en línea rápidas, sin pago inicial, en Las Vegas, NV 24/7. También presta servicios de fianzas en línea baratas en North Las Vegas, Henderson, Boulder City y Nationwide. Vas aquí para mas información en Fianzas en Las Vegas NV.
Common Types of Las Vegas Bail Bonds:
If you need bail assistance or information for one of the surrounding jails please visit: Bail Bonds Las Vegas, North Las Vegas Bail Bonds, Henderson Bail Bonds, or Boulder City Bail Bonds
Frequently Asked Questions
Do I have a Constitutional Right to Bail?
What are the Different Types of Bail Bonds?
What if I have an Outstanding Warrant?
Difference Between Cash Bond and Surety Bond
What are the Obligations of a Co-Signor?
Options for Bail Bond Collateral
What does a Bail Bond Contract include?
What happens to a detainee in Las Vegas?
How much does a Bail Bond Cost?
Can a Foreign National gain release from jail?
Jail Release Times and Processes
What Happens if I have an Arrest Warrant?
What if the Defendant doesn't go to Court?
If I Bail Someone out of Jail, What is my Responsibility?
Where Can I Find Cheap Bail Bonds?
What is Bail or a Surety Bond?
How Much Does a Bail Bond Cost?
What Are Immigration Bail Bonds?
How do I Post Bail at the Henderson Jail?
Posting Bail at the Las Vegas Jail?
How can I Post Bail at the Clark County Jail (CCDC)?
What is a Bail Forfeiture Notice?
How do I get someone out of Jail?
Can I get out of Jail for Free?
Contact eBAIL Cheap Bail Bonds Las Vegas
eBAIL Cheap Bail Bonds
702-462-9200
Marc Gabriel
3100 E Charleston Blvd
108
Las Vegas, NV 89104
Continue to our Contact Us page for more information about our location. Also see us on Google Maps. If you would like to see our reviews please visit our Bail Bonds Las Vegas Reviews pages.