eBAIL provides Fast, Cheap, No Money Down, Online Bail Bonds in Boulder City 24/7. Also serving Online Bail Bonds in Las Vegas, North Las Vegas, Henderson, and Nationwide.
Bail Bonds in Boulder City Nevada
Call 702-462-9200 right now if you need Boulder City Bail Bonds or click here for BAIL ONLINE IN 3 MINUTES OR LESS.  Your friend or loved one just got arrested in Boulder City, Nevada?  Don't worry we can help fast.  Boulder City is a very beautiful little town nestled on a hill above the shores of Lake Mead.  It is only minutes from the world famous Boulder Dam and City of Henderson and approximately twenty minutes from Las Vegas.  If someone just got arrested within Boulder City's jurisdiction they will go to jail in Henderson.  Boulder City is such a small community that it is not large enough to have its own jail, so all people arrested will be transported an booked into the City of Henderson Jail.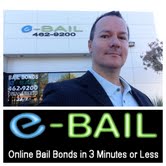 Hi, my name is Marc Gabriel and I can help you get your friend or loved one out of jail with Boulder City Bail Bonds.  If you have any questions regarding the process please call me at 702-462-9200 right now.  There is never an obligation.
When selecting a Bail Bonds Company people are concerned with credibility, confidentiality, and speed of service.
eBAIL is the most credible Boulder City Bail Bonds Company:
eBAIL is the only Bail Bond Company in Boulder City that is proudly accredited by the Better Business Bureau as well as fully licensed by the NV Department of Insurance to post Bail Bonds in Boulder City.  Our knowledgeable and friendly staff is waiting to help you 24 hours a day, seven days a week.  Just give us a call at 702-462-9200 right now and we will answer all your questions and walk you through the process.  eBAIL works also with the best attorneys in town.  They trust us with their clients so you can be assured that you are in good hands.
The jails that accept our bail bonds?
Types of bail bonds we service
Confidentiality is our business:
Due to the nature of our business confidentiality are an absolute must and our number one priority.  eBAIL's staff are professionals sworn to confidentiality and secrecy by contract.  We have a lot of high profile clients that need confidentiality in this matter and we are the only Bail Bonds Company in Boulder City that is set up to afford this level of confidentiality.  The best attorneys in town trust in our confidentiality with their clients.
Types of Henderson Bail Bonds
24/7 Henderson Bail Bonds
Cheap Bail Bonds
Controlled Substance Bail Bonds
Domestic Violence Bail Bonds
DUI Bail Bonds (Driving Under the Influence)
Felony Bail Bonds
Free Bail Bonds
Henderson Bail Bonds Near Me
Immigration Bail Bonds
Misdemeanor Bail Bonds
No Money Down Bail Bonds
Online Bail bonds
Traffic Bail Bonds
Warrant Bail bonds
Weapons Bail Bonds
Zero Down Bail Bonds
eBAIL is the fastest Boulder City Bail Bonds Company guaranteed:
eBAIL is the only company that provides ONLINE BAIL BONDS IN 3 MINUTES OR LESS. You can use your computer or your smartphone to go online and by utilizing your credit card bail someone in 3 minutes or less. If you are close to our office please come and visit us. We are located at 3100 E. Charleston Suite 108, just west of 95 and Charleston and are open 24 hours a day and would love to meet you.
eBAIL is licensed by the NV Department of Insurance to also post Bail Bonds in Boulder City as well as nationwide through our network of Agents.  Our friendly staff is standing by 24 hours a day seven days a week to answer all your questions.  If you want to find your friend or loved one yourself try our INMATE SEARCH TOOL for anyone that was arrested within the Boulder City jurisdiction.
Why choose eBAIL Las Vegas Bail Bonds?
Fast – Online Bail Bonds transactions:  3 minutes or less by phone
Cheap – We offer zero and no money down bonds
"Near Me" Service – We can always come to you!
Free – We NEVER charge you for a consultation
Online – The only fully online bail bonds company in Boulder City
Availability – 24/7 Bail Bonds Las Vegas. Any time any day!
Licensed – Fully licensed by the Nevada Department of Insurance.
Reputation – We are the only Bail Bonds Company in Boulder City with BBB Accreditation
Trust – Top attorneys in Boulder City trust in referring clients to us.
Professional – We provide confidentiality and always treat our clients with the utmost respect.
Financing – Guarantees easy payment plans on the State Law required 15% bail bonds fee.
Your satisfaction is very important to me. If you have any questions or concerns please contact me directly at 702-462-9200.
Thank you for your business
Marc Gabriel
Boulder City Bail Bondsman
NV Dept. of Insurance License #646700
Go here for Las Vegas Bail Bonds or Henderson Bail Bonds