When you wish to help a friend or loved one to get out of jail, you should be aware of the obligations of a bail bond co-signor before making an agreement. You have certain rights and responsibilities regarding your part in securing a bond for someone else as a co-signor.
Detainees bail is set by the judge
When someone is arrested in Las Vegas, that individual is taken to one of four detention centers in the area.
There will be a hearing where the judge will determine a bail amount that must be paid in order for the accused to be released. The entire amount of the bail can be paid. An alternative course of action is to hire a lawyer to try to get the bail amount lowered. If a detainee does not want to spend a lot of time waiting in the detention center, a bail bondsman can be hired for (15%) of the set bail amount.
How does a Bail Bond in work?
Your friend or loved one may ask you to contact a bondsman for assistance. You will be required to pay (15%) of the bail amount that was set by the court as a fee for service. You may also be required to put up some form of bail bond collateral that is sufficient to cover the full amount of bail. The bail bondsman will then arrange for the full bail with the jail to begin the release process for the detainee.
Obligations of a Bail Bond co-signor
If you make a bail agreement with a bondsman, your responsibility as a co-signor has just begun. You will need to make sure that the accused appears for all scheduled court dates and that the (15%) fee is paid in full to the bondsman. You give power of attorney to the bondsman and run the risk of losing whatever property you put up as bail bond collateral.
Types of Collateral that can be used for the bail bond
You can use cash, money from bank accounts, or a credit card as collateral on the bond. Other items that are good for bail bond collateral include your home or other property, land, vehicles, gold and silver coins, jewelry, firearms, or any item of value that can be pawned.
If the accused shows up for court dates:
As long as the accused shows up for all legal proceedings, you will only owe the (15%) to the bondsman. Anything you put up as collateral will be released.
If the Accused skips their court dates
If the defendant flees, the bail bondsman has 6 months to locate and return the accused to the detention center, or the bondsman will owe the court the full bail amount. This means that as a co-signor, you will be responsible for the full bail amount or lose the property you put up for collateral. If you are concerned that the accused will not return to court, you can call the bondsman to cancel the bond, give the whereabouts of the defendant, and have that individual arrested and returned to jail. This will release from your obligation from the bond agreement. If the defendant does not show for court the bond company could send a bounty hunter to search for them.
Best Las Vegas Bail Bond Service
If you are looking for a professional and reliable bail bondsman in Las Vegas, turn to Marc Gabriel and eBAIL for excellent service. At eBAIL, we have a strong reputation with the courts and top-rated attorneys. We'll help you with payment arrangements to secure the release of your loved one promptly. eBAIL Cheap Bail Bonds is located at 3100 E Charleston Blvd Suite 108 Las Vegas, NV 891048.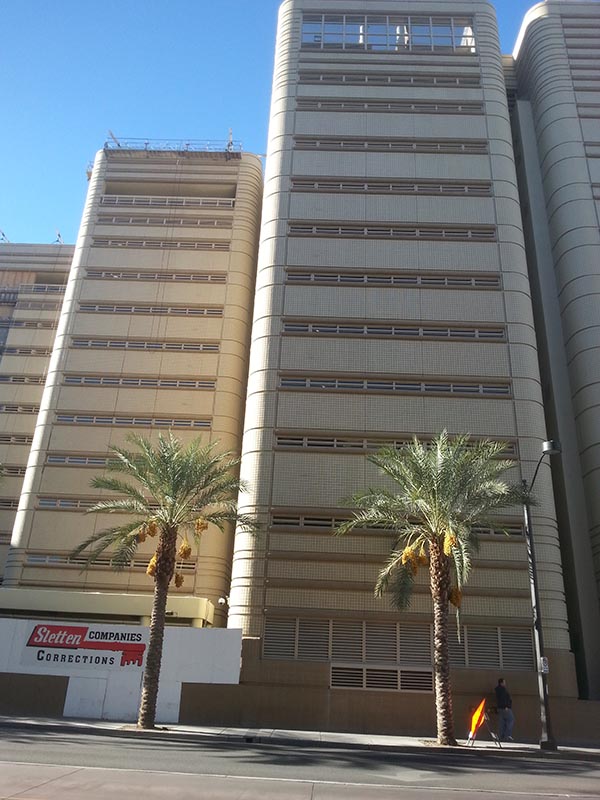 Las Vegas Jails Inmate Searches
If you need assistance finding an inmate in any of the local jails you can use our free inmate search tools. In addition, each detention center has its own release policy. However, if you have any questions you can call our friendly operators. We are available 24 hours a day 7 days a week and can help you locate a detainee and help secure their release. You can also learn more about the Nevada Bail Bond process in our Frequently Asked Questions (FAQs) section. You can also learn about "How Much a Bail Bond Costs" and how and why the price is regulated by the state of Nevada.
Hablas, Español? eBAIL Cheap Bail Bonds ofrece opciones de fianza en línea rápidas, sin pago inicial, en Las Vegas, NV 24/7. También presta servicios de fianzas en línea baratas en North Las Vegas, Henderson, Boulder City y Nationwide. Vas aquí para mas información en Fianzas en Las Vegas NV.
Common Types of Las Vegas Bail Bonds:
If you need bail assistance or information for one of the surrounding jails please visit: Bail Bonds Las Vegas, North Las Vegas Bail Bonds, Henderson Bail Bonds, or Boulder City Bail Bonds
Frequently Asked Questions
Do I have a Constitutional Right to Bail?
What are the Different Types of Bail Bonds?
What if I have an Outstanding Warrant?
Difference Between Cash Bond and Surety Bond
What are the Obligations of a Co-Signor?
Options for Bail Bond Collateral
What does a Bail Bond Contract include?
What happens to a detainee in Las Vegas?
How much does a Bail Bond Cost?
Can a Foreign National gain release from jail?
Jail Release Times and Processes
What Happens if I have an Arrest Warrant?
What if the Defendant doesn't go to Court?
If I Bail Someone out of Jail, What is my Responsibility?
Where Can I Find Cheap Bail Bonds?
What is Bail or a Surety Bond?
How Much Does a Bail Bond Cost?
What Are Immigration Bail Bonds?
How do I Post Bail at the Henderson Jail?
Posting Bail at the Las Vegas Jail?
How can I Post Bail at the Clark County Jail (CCDC)?
What is a Bail Forfeiture Notice?
How do I get someone out of Jail?
Can I get out of Jail for Free?
Contact eBAIL Cheap Bail Bonds Las Vegas
eBAIL Cheap Bail Bonds
702-462-9200
Marc Gabriel
3100 E Charleston Blvd
108
Las Vegas, NV 89104
Continue to our Contact Us page for more information about our location. Also see us on Google Maps. If you would like to see our reviews please visit our Bail Bonds Las Vegas Reviews pages.